About WCTT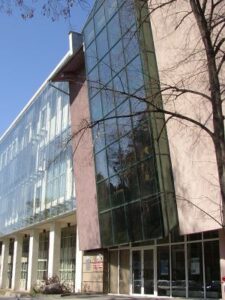 The Wroclaw Centre for Technology Transfer (WCTT) of Wroclaw University of Science and Technology is the oldest and self-financed unit established in 1995 on the initiative of Professor Jan Koch, as the first such center in Poland. It was created in response to the needs of institutions of the world of science and economy.
WCTT mission:
COMMERCIALIZATION – commercialization of scientific research results obtained at the Wrocław University of Technology
RESEARCH COOPERATION  – animation of research and technology cooperation
INNOVATION – active support for innovative activity of enterprises
Wroclaw Centre for Technology Transfer WCTT is a member of Enterprise Europe Network – the largest business support network co-financed and coordinated by the European Comission. The network's mission is to help small and medium-sized enterprises expand to international markets. As a network center and coordinator of the Enterprise Europe Network consortium in western Poland, WCTT offers free, comprehensive information, advisory and training services in the field of technology transfer and support for operations on the international market.
The Wroclaw Center for Technology Transfer has been running the Regional Contact Point for EU Research Programs (RPK) since 1999. The mission of RPK is to support scientists and entrepreneurs from Lower Silesia in acquiring and implementing international research projects. Also, the WCTT employees themselves implemented several dozen projects under the EU Framework Programs, thanks to which they acquired practical experience that they share with others.
WCTT is one of the national leaders in the commercialization of research results, ensuring effective transfer of knowledge and technology to an innovative economy. From the very beginning, the Center has treated the transfer and commercialization of technology as one of the main areas of its activity. As the years passed and the concept of the Third Generation University became more widespread (i.e. combining the three basic functions of a modern university: education, research and commercialization), the implementation of research results into business practice has become increasingly important. The Wroclaw Center for Technology Transfer is the initiator and one of the founders of the nationwide Alliance of Academic Technology Transfer Centers (PACTT), currently grouping over 60 centers from public universities.
WCTT achievements (1995-2018):
over 1000 trainings and conferences organized,
46 thousand people trained,
almost 34 thousand consultation granted,
support for submitting more than 640 applications for research funding by the European Commission,
560 technological, design and marketing audits carried out,
129 international technology transfer and commercial contracts finalized,
162 innovative enterprises (start-ups) established,
59 research commercialized (since 2014),
303 mini-research and implementation grants financed by scientific units for SMEs were financed.